It is a translation of the original(in Japanese). Every header is linked to the corresponding original slide.
---
<URL:http://www2a.biglobe.ne.jp/~seki/ruby/>
Introduction
Applications
About its implementation
Future
I wanted to make it.

Extend Ruby objects across the net
So that you remote can handle it transparently

I want it come into used.

Conquer the world < the problem is in front of you
Ruby-limited distributed object environment
100% Pure Ruby
RMI (in Java) style
Without declaration (IDL/stub/skeleton)
Invoke method(s) of object(s) on other host(s)/process(es)

Treatment of the object(s) is same as usual
dRuby server, and also client

Exchange objects

Return values, arguments
Call by value (default)
Change automatically to call by reference

Support exception, method with block(=iterator)
Support multithreading
URI ... druby://hostname:port
reference ... by URI + ID

The ID is determined at runtime

front ... defined simply by URI

Persistent name
Frontgate of the system
The system made up by dRuby has more than zero fronts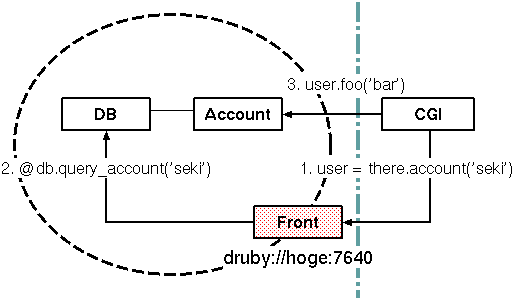 Nothing is known at first except URI
Handle objects taught by front
dRuby script...

Knows URI of front
Or, becomes front

front

Naming service
Access control
Default is 'call by value'
dump/load by Marshal (serialization/reconstitution)
Cannot dump File, Thread, Proc etc. -> exception

If it includes them, it fails.
Catch exception, and call by reference.
DRbUndump Mix-in

Cannot load Unknown class

Examinating in DRbUnknown
Web application
Synchronize dRubys
A Wiki Clone with articles written in RD
Rewritable web page
Architecture

Server ... dRuby
Web interface ... CGI/mod_ruby
Mail interface ... scarlet

There's long preprocessing such as RD formatting
CGI itself needs everytime formatting
RWiki caches preformatted pages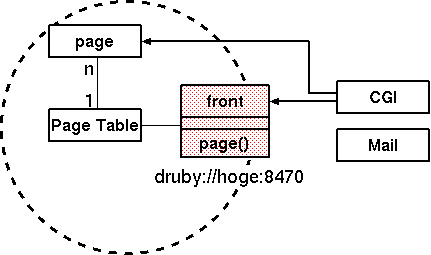 Ask front about Page, and handle it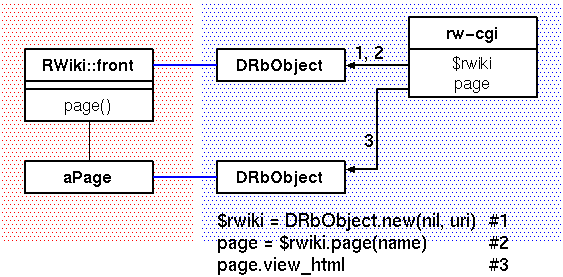 Thread synchronization is available
in/out (get/put) data with TupleSpace
'in' gets data that matches pattern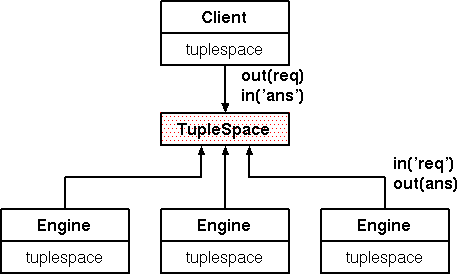 Candidate knows TupleSpace only
Adds Engine, speeds it up
Method invocation
Protection from GC
DRbObject forwards received messages to the referee
method_missing ... invoked in the case of ungoverned method
DRbObject#method_missing ... forward to URI'ed server
The server invokes the referee method
The result is also marshaled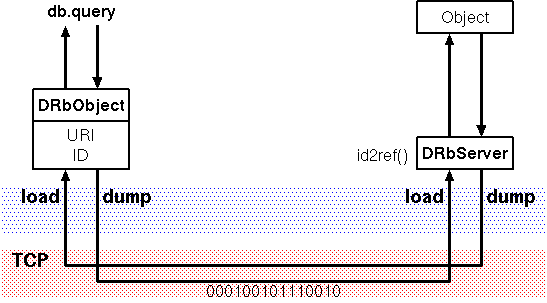 Each element consists of 'length' and 'Marshal.dump'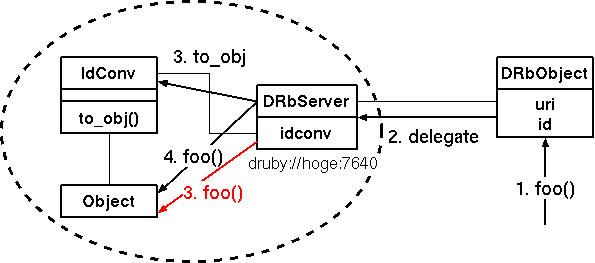 DRbObject has URI and id
URI specifies the server
id specifies object in the server
Every dynamically generated object has its own id
When id = nil always same object is refered
Call by reference has GC risk
Consider at programming level

Method with Block (Iterator)
Covered by algorithm

Time limited GC protection

Keep certain time till the access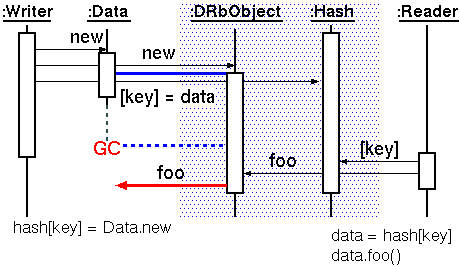 GCed even refered by DRbObject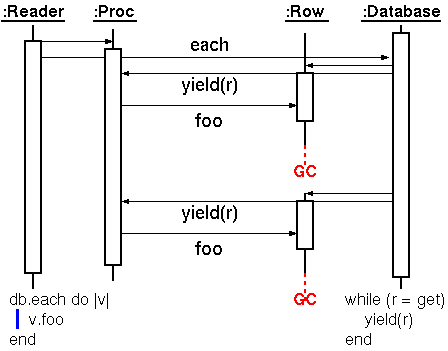 v is not GCed on proc.call
DRbIdConv exchanges reference and object
to_id ... from object to ID
to_obj ... from ID to object
Object.id and ObjectSpace._id2ref
Change IdConv
Register to_id with the front
Expand its life by to_obj
Thread keeper forgets dead Object of the front
Protected from GC certain time till the last access
Elemental dRuby has nothing
ACL
Examine irregular message

Huge packet
Invoke dangerous methods

instance_eval
How about inspect??
1.3

1.3b (...then)
More than one DRbServer
security
mod_ruby support

2.0
ARb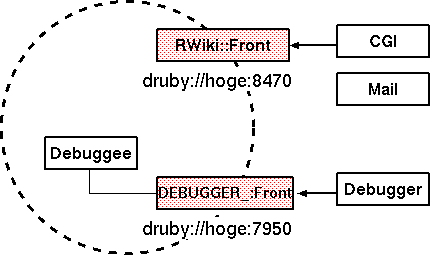 Is free to debug distributed environment?

Plotting out by NaHi
Code tracing across the processes
Do try it!
Welcome any feedback
<URL:http://www2a.biglobe.ne.jp/~seki/ruby/>
---
Translator: SUGIHARA, Hiroshi; alias SugHimsi